Young Living Essential Oils and Dogs
Friday, June 1st through June 3rd
Your comfy couch – virtual class – https://www.facebook.com/events/243876086364313/
Hosted by: Pit Crew IL Rescue and Young Living Distributor, Gina Anderson
We will discuss:
Young Living Essential Oils
The benefits of essential oils for both you and your dog
How to use essential oils safely
How to support the health of your dog with Young Living products
How to get started with Young Living Essential Oils
How you can help Bali and her friends from Pit Crew IL Rescue
**All earned commission from this event will be donated to Pit Crew IL Rescue**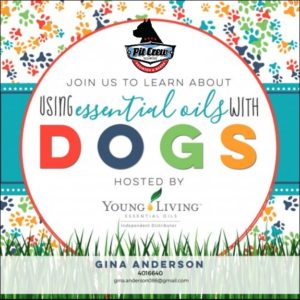 Dog Day is coming up!
Sunday ~ March 11, 2018
When ~ 2pm-5pm
Where ~ Sears Centre Arena ~ 5333 Prairie Stone Parkway, Hoffman Estates, IL 60192
Grab your kids and the pooches!
Come on out for a fun day and help raise awareness and funds for the Pit Crew pups.
Every ticket purchased through this link brings a donation to our rescue! So come on out!
We will have some amazing tables set up. Educational, crafty and fun! Hope to see you there!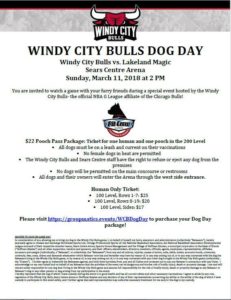 The $1 Challenge!
We are in desperate need, with our rescue funds at zero and our personal funds are used up. We still have medical bills coming in and dogs that need our help. We can't do this without you, our supporters.
We have nearly 2,000 friends on our Facebook and Twitter pages. If everyone donated one dollar to us, it would make a huge difference in what we are able to do to help animals.
Will you accept the $1 challenge? 4 quarters, 10 dimes, 100 pennies. That's all it takes for you to help us help animals!
There are 3 ways you can donate this dollar (or more if you'd like ) to us:
Online via PayPal (no fees will be charged if you put it as a personal transfer instead of a donation) by sending it to: pitcrewilrescue@gmail.com. Go to Paypal.com to get started or donate through our Facebook page to pay by debit/credit card.
Send a check to (we don't mind depositing a $1 check!):
Pit Crew IL Rescue
P.O. Box 60874
Chicago, IL 60660
Purchase a Pit Crew IL Rescue product from our store! ALL profits of each purchase go to the dogs! SHOP.
Thank you for your support! Every penny that we raise goes straight to help animals in need (i.e. vetting & food)!
Paws 4 a Cause Fundraiser: A Chicago Pawty with TVD Chicago
Paws 4 a Cause, an animal welfare organization committed to raising funds for animal shelters & rescues, invites you to a "Chicago Pawty"!!
Benefiting: St Tammany Humane Society (Covington, Louisiana)
Pit Crew IL Rescue (Chicago, Illinois)
Ticket Prices: $5.00/person in advance and at the door!
Photo Op Prices: $5/person per photo!
Who?: Anyone attending Creation Entertainment's TVD Chicago and friends/family. All ages event! Must be 21+ to purchase alcohol with a valid ID.
Where?: The Benchmark Restaurant, Westin O'Hare Chicago,
When?: Friday, April 13, ,2012; 7pm to midnight (12am)
What's happening?: Silent Auctions, 50/50 Draw, Donations Bucket to drop in spare change, Door Prizes, Meet & Greet with other TVD Fans, Photo Ops
Special Guests: Elena and Caroline will be making apperance in attire from Caroline's Bday Party this season. Special thanks to Brynna Rowan and Elendriel Alastair for adding some fun to the party! They are also going to be doing Photo Ops to help us raise more funds for the shelter/rescue.
Dress Code: From jeans to tuxedo/cocktail dress, your choice! Strongly suggest dressing up to match Elena and Caroline's outfits, which will be from Caroline's bday party from Season 3.
Bikers for Bullies / Pitbull Rescue Rally
Date: Sunday May 16, 2012
Time: 10:30am
We are super excited to announce our Bikers for Bullies/Pitbull Rescue Rally on Sunday May 6 at 10:30am !! Come on out and enjoy a fabulous day of riding and meet some of our wonderful dogs!
We hope to see you there!
Event Info Here
Event: Black Cat Strut 5K for The Independent Cat Society
Date: May 20, 2012
Time: 8am to 2pm
We have been asked to be the only Pit Bull rescue as a representative of the breed. We will have dogs for adoption, our trainer will be there doing on site training with Otto, we will have information on training and educational booklets for kids on dogs, plus merchandise for sale! Learn more.